Planning a trip can be a lot of work, and let's be honest, we all pack the night before we leave. Let us help you by leaving the driving to someone else! The BC Ferries Connector is a great way to commute between Downtown Victoria and Downtown Vancouver, with stops in between. Whether you're venturing onto a cruise ship or going on a journey in the sky, we can connect you to your destination.
The BC Ferries Connector is your year-round, cross-water connection, skip the lines and the waits with guaranteed on-board select sailings, making your trip even smoother! With ample storage space for luggage, all that's left to do is sit back and relax.
We offer a convenient transfer to the YVR Airport, stops along Cambie Street in Vancouver and a stop in the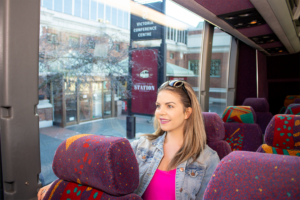 downtown core, you are steps away from hotels, amenities and more! If you are travelling to the island, our bus goes into the heart of Downtown Victoria at Capital City Station & Café, when you arrive stop into the café to grab a beverage and a bite to eat.
For more information on additional stops, schedule and fares, be sure to browse our website for further details. Let the BC Ferries Connector be your convenient connection between Downtown Victoria and Downtown Vancouver.